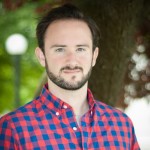 <– This is me. I'm the founder of Credo, a marketplace to connect great businesses with the best digital marketing consultants and agencies. Longterm, I want to kill the RFP process. This page is my /now page, inspired by @sivers and @tomcritchlow.
I live in Denver and mostly work from home, coworking with my 90lb black lab mix named Butterbean (his Instagram hashtag here) who is currently chasing squirrels in his sleep as I write this. I'm a growth marketer by trade, formerly at agencies and inhouse with some Zillow brands, but I am now a fulltime entrepreneur.
Here is what I am up to these days:
Building Credo by increasing demand leads and onboarding supply as needed
Learning how to scale a product
High level marketing consulting and SEO consulting for select companies. Rarely doing ongoing consulting Feb-May 2016 while I concentrate on the platform, though available for Clarity.fm calls.
Writing as much as I can on this site, the Credo blog, and Medium.
Working on case studies to present at a few conferences this year (SLCSEM, SEOzone, likely a few more)
Working to expand my network in San Franciso by doing a coffee meeting a week with someone new and interesting (want to meet? john at getcredo dot com)
Speaking and doing webinars (Vertical Measures, SEOzone Istanbul)
Traveling as often as possible.
My goals for 2016:
Build Credo into a $20k/mo revenue company
Spend a workweek somewhere with a bunch of smart entrepreneurs in a tropical place, coworking and being inspired by each other. This is not a vacation, it's to focus on work intensely for a week while surrounded by other inspiring people in an inspiring place
Complete another 100mi bike ride
Go swimming with sharks
If you're interested in any of the above, get in touch! john at getcredo dot com gets me directly.