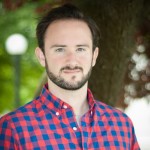 Hi I'm John Doherty. I'm the founder of Credo, a business that connects great businesses with the best digital marketing providers. Longterm, I want to kill the RFP process. This page is my /now page, inspired by @sivers and @tomcritchlow.
I live in Denver Colorado and work from home where I cowork with my 90lb black lab mix named Butterbean (his Instagram hashtag here) who is currently chasing squirrels in his sleep as I write this. I'm a growth marketer by trade, formerly at agencies and inhouse with some Zillow brands, but I am now a fulltime entrepreneur.
Here is what I am up to these days:
Building Credo by increasing demand leads and onboarding supply as needed
Learning how to scale a product
High level marketing consulting and SEO consulting for select companies. Rarely doing ongoing consulting Feb-May 2018 while I concentrate on Credo. I am available for Clarity.fm calls and agency coaching.
Writing on this site, the Credo blog, and Medium.
Partnering with smart businesses in the marketing/connection space.
Speaking and doing webinars.
Traveling as often as possible.
My goals for 2018:
Build Credo into a $50k/mo revenue company.
Build out a team at Credo to handle many of the tasks I currently handle
Finish my first ebook (on selling digital marketing work)
If you're interested in any of the above, get in touch! john at getcredo dot com gets me directly.