One year ago today, I embarked into the land of entrepreneurship. A year in, my software business just recently reached the $100k ARR ($8,333.33 monthly) mark, actually right over $10k/mo recurring. I've also worked with 9 consulting clients over the last year that have generated over six figures in revenue for me as well.
So how did I do it? Well, today is exactly the one year mark of parting ways with my last job and embarking out on my own to see if I could survive, and maybe even thrive, as an entrepreneur. One year in, I'm happy to say I'm still paying my bills and happier than I have ever been professionally.
So how did I do it? Through a lot of hard work and stress. Let's talk about that.
Iterate Constantly
My company Credo, found at GetCredo.com, started at the beginning of 2013 in it's first incarnation as HireGun.co. It started off as a simple Google Sheet where I listed the people I knew who do great work. I had an idea that a business model might exist when my friend Brandon at Wallaroo Media paid me $50 for a lead, which I then used to go buy a domain name and threw it up with a stock WordPress template.
Here's the initial iteration: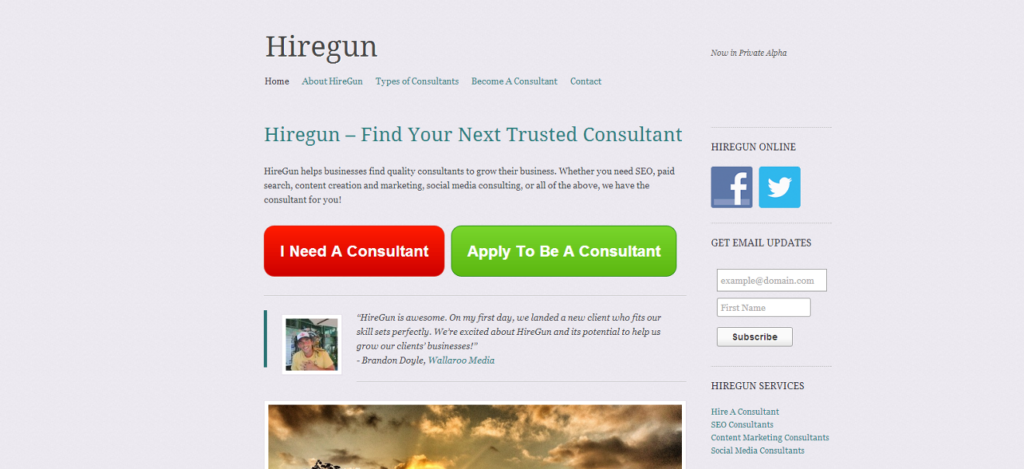 Almost four years after that first site was set live, Credo is on a six figure plus annual revenue run rate and has sent agencies and consultants over $800,000 total from the businesses who have come to them looking to grow their businesses.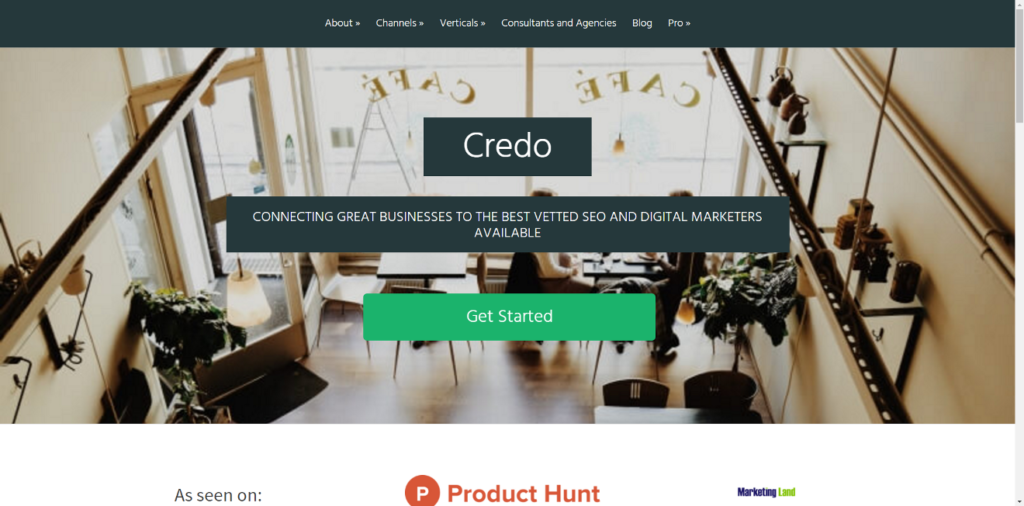 Here are the steps Credo has gone through in the last year to get to where it is now, and these aren't even the fun takeaways:
Tightened up the existing website so that it wasn't an eyesore to everyone who visited because of a broken design.
Started some Facebook advertising and content marketing to start generating leads.
Quickly grew the platform to $4-$5k a month in revenue on a commission model and thought that it was going to keep growing and I'd be rolling in money very soon.
Rebranded the company because I was about to be sued for trademark infringment (oops)
Watched revenue flatline to go slightly down for a few months while I did a lot of personal consulting to pay my personal bills.
Built out a lead manager back end and pivoted the business model into a subscription model.
Watched revenue grow quickly and now steadily month on month.
Watched number of leads and traffic grow every month, sending increasing numbers of clients and revenue to Credo customers.


You only lose if you quit.
Now I'm continuing to iterate on and grow the platform. But that's the boring part and not what I want to focus on.
Instead what's more interesting is how I've moved with the data.
I'm a data-driven digital marketer by trade. If something isn't working, I look at the data to figure out why. I realized that the commission model wasn't going to scale like I wanted it to because it was more resource-intensive than I realized at first, and since around 50% of leads actually close I was doing about 50% of my work for free (uncompensated). Revenue went like this: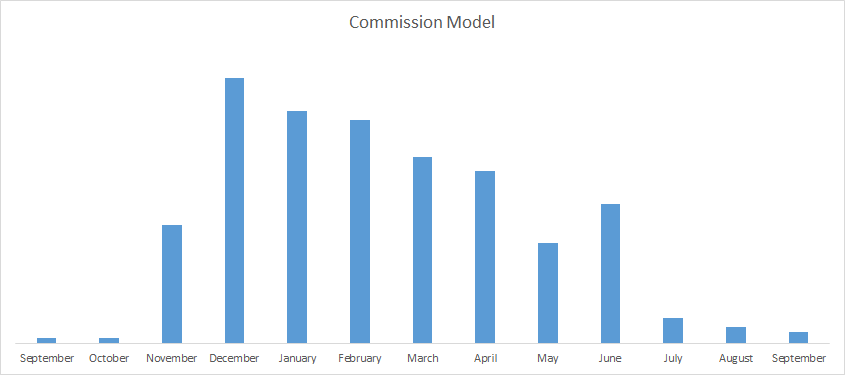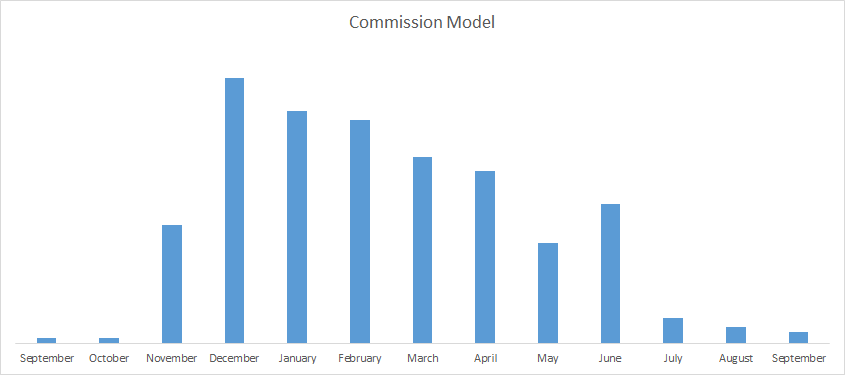 When I switched to the subscription model, revenue has grown 3x since May: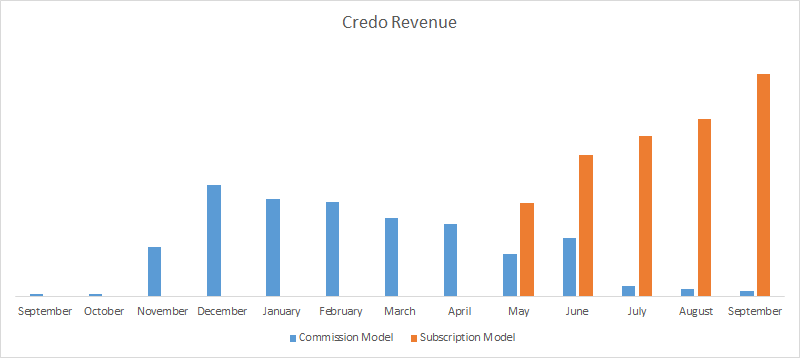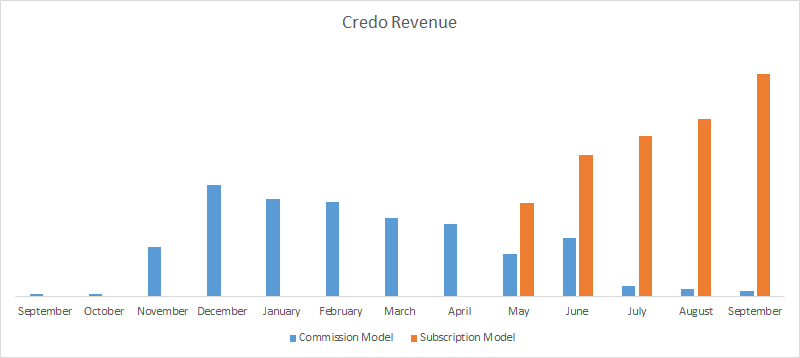 You only lose if you quit.
Improve Yourself
I told you in the title of this post that I have built Credo using $422 worth of paid WordPress plugins. That's right, Credo is built completely on WordPress and ties together the following technologies:
WordPress for the CMS
Vertex Elegant Themes theme base that is now essentially a custom theme
MailChimp for marketing email
Mandrill for transactional email (powered by custom code)
GravityForms for lead generation ($299 for developer license)
GravityView for displaying leads on the backend ($119)
KingSumo Giveaways plugin ($199)
PaidMembershipsPro to handle memberships
Stripe for handling recurring billing
That's a total of $617 of plugins (about $500 recurring annually) off of which I have been able to build the platform into what it is today.
But all the tools in the world are useless unless you have the skills to put them to use. I was trained as a front end web developer during my university days, but honestly let those go a bit over the years as I went deep into marketing. I could still hack tools together and do basic WordPress theme customizations for sites, but my PHP and CSS skills had definitely atrophied.
Over the last year, I have written at least 3500 lines of CSS, over 1000 lines of HTML, tightened up my WordPress PHP game, and a lot more. What used to take me five hours to do now probably takes me one.
I'm also continuing to learn other parts of digital marketing, and getting back into things I've done but not for a while. I'm doing outreach, hustling for guest posts, learning AdWords and Facebook Ads, and learning a lot about partnerships and business development. I've also honed my sales skills again over the last year and am increasingly learning what a proper B2B sales and marketing funnel looks like.
All hard lessons, but all immensely valuable for the future.
Hire Others Even When You're Good
I'm an unabashed generalist. I was trained as a web developer in college, have always considered myself a writer, and became a marketer over the years. I can do SEO, email marketing, content marketing, and am learning paid acquisition via PPC and Facebook.
I also don't consider myself a good team member. I'm a true entrepreneur in that I always think I am right. But in the last year I have been humbled and am trying to be wise not smart and listen to others who are smarter to me. And when others smarter than me say that the best thing they ever did was hire great people, I take that to heart.
In the last year I have worked with a great WordPress developer and a fantastic writer. Both are responsive, communicative, and prompt with the work I need them to do. I wish I could get some more of their time, honestly, because they are awesome. They're contractors, which is perfect for my stage right now.
The decision to engage both of them came from the fact that I do not scale as a person. I can't get more than 24 hours in a day, and if I do a 14 hour day one day I have a lot of trouble focusing the next day. So I've had to learn what is worth my time and what is not.
That said, I still do most of the front end development on Credo. I also write 2–3 blog posts a month for Credo as well as my personal site and guest posts. I do this because I love to do it and they tend to go further than others writing because of my personal brand, but I also value what my developer and writer bring, which is the ability to scale without requiring more out of me personally.
Diversify
The average millionaire has three or more streams of income. Now, I am nowhere near to being that wealthy, but diversifying income streams has been a huge lesson for me this year. At one point, I realized that I have five different ways to make money right now:
Software revenue (Credo)
Lead commissions via Credo (for a few a month)
The occasional paid writing gig
While this was not really planned, it's been great to have these different ways of generating revenue. Not all are scaleable or exactly what I want to do long term, but being able to spin them up or down is a blessing in and of itself.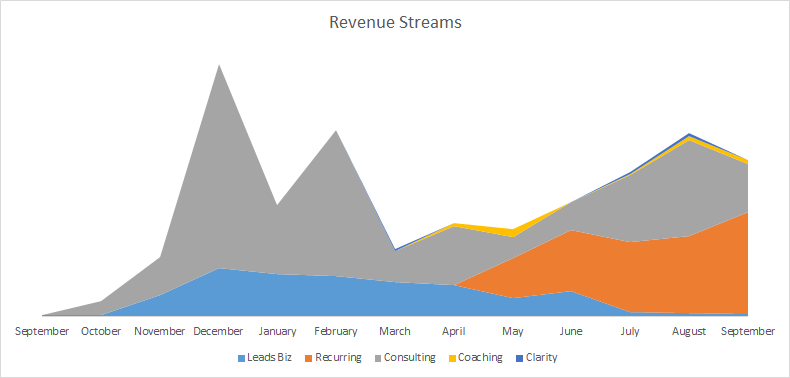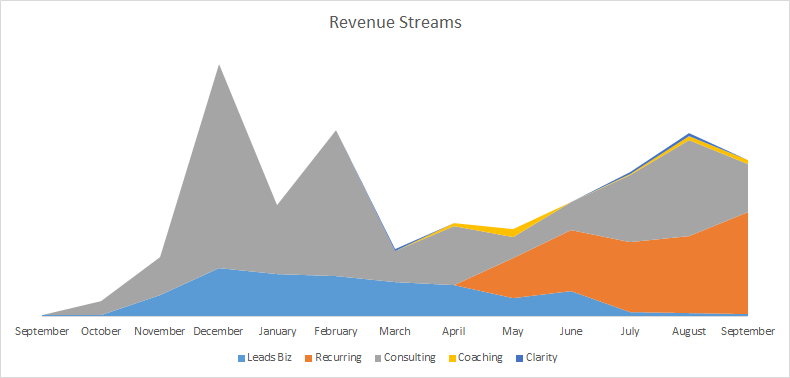 Do What You Know (For Me, Consulting)
Over the last year I've worked with nine companies to help them with their digital marketing. I've worked with 4 startups, 3 marketplaces, one publicly traded company, and one SaaS company to help them grow their businesses primarily through SEO, but also content and email marketing.
When I struck out on my own, the first thing I did was let my close circle of industry peers know that I was taking on freelance work. A few tried to hire me (I politely turned them down saying that I needed to prove to myself I could make it as an entrepreneur) and a few sent me work, which was super helpful in proving to myself that I could at least make a few dollars.
To be completely honest, leads have come from many places. I've received a decent few through my Credo profile, a few more through my site, and more directly to me either from the Moz Recommended List or through referrals from friends.
I have been very fortunate to work with some very cool companies and help them get started towards a solid SEO base, or to help companies accelerate what is already going for them.
Consulting revenue is definitely more spikey than software revenue. I have had some enormous months and some leaner months. I've had a few multi-month engagements and one ongoing client, with some shorter-term audits sprinkled in.
Here's consulting revenue since last October: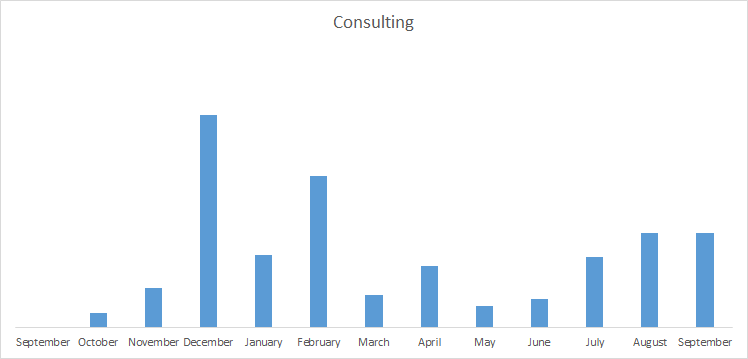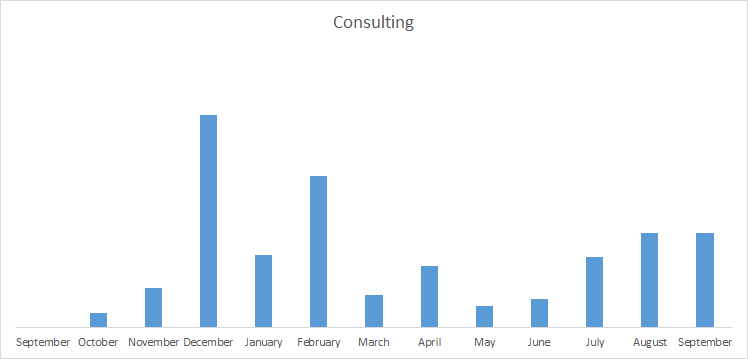 But the exciting part is seeing software revenue catching up to that: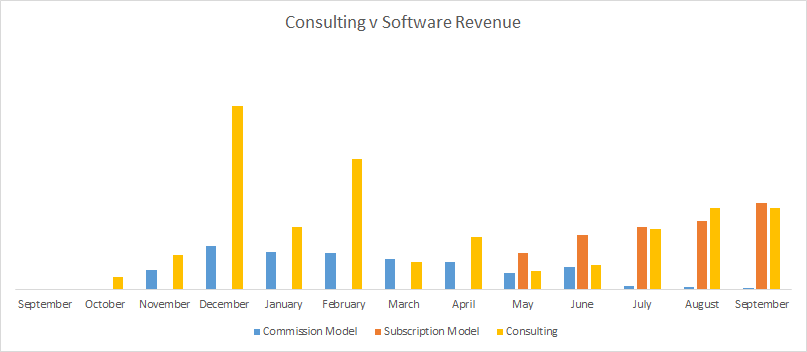 Consulting is fun and keeps me sharp in my enterprise SEO and marketplace SEO skills (and if you run one of these and want to chat about me helping you, contact me here). And it lets me keep writing posts like this one about marketplace and enterprise duplicate content issues. Those are fun to write.
Also, consulting pays incredibly well. And I have to be honest that sometimes I think I am crazy for wanting to eventually get away from it, because I also love my clients.
But at the end of the day, consulting is not scalable or the kind of business I want to run long term. While I do get to work with great companies, consulting is trading time for money.
When you close a consulting contract, the money is basically guaranteed. Then you have to deliver on it. You're doing the work after the fact (the payment and contract signing).
As a software entrepreneur, I get excited about the potential of the business. I like working hard and seeing the fruits of my labor come to pass. I am motivated by this, whereas I am not as motivated by consulting. Consulting is about the relationships and helping others succeed, not the money anymore.
Manage Your Business Cashflow
Learning to manage cashflow has been one of the toughest parts of this first year. I've never loved managing money, even my personal money, so this year has been big in terms of educating myself about cashflow and investing, and then putting plans into action.
Here are the best things I've done in this regard this year:
Every month, know exactly what you brought in and what you spent. I use Bench.co for this.
Save 35% of everything you make. Self employment tax sucks and you need to cover it.
When you pay yourself from a business like software, pay yourself the minimum that you can. Ideal is 50% of business revenues after taxes and expenses. If you're a sole proprietor LLC, you can take a big owner draw at the end of the year as a bonus (NB: not an accountant. Check with yours).
Don't spend more than you bring in.
Have one max two invoicing options and stick to them. When I first started last year, I had 4 different ways of people paying me. Now I have 2, Stripe and PayPal, which makes reconciling much easier every month.
If you're a boostrapped entrepreneur like I am, keep your burn as low as possible but also don't be afraid to spend to make your life easier. Bench is definitely worth the $195 I pay them each month. My accountant is worth their monthly fee. Other than that, I try to be as frugal as possible with spending so that I can invest in growth.
Lean On Your Friends
I don't want to put this last because it has been one of the best parts of this year, but it's also probably the least interesting to all of you. This past year has been all about relationships. I've made it a point to really invest in friendships and lean on others, and seek to help others wherever I can.
I wouldn't have gotten through this last year in one piece without friends like Tom Critchlow, Michael King, Damon Gochneaur, Sean Smith, Brandon Doyle, and many more.
They've all supported me mentally, psychologically, and some of them even financially via Credo.
I couldn't have done this year without all of them.
---
This past year has been a fantastic learning curve for me. I feel extremely fortunate to be where I am just a year after being thrown a curveball in life. I now understand why both of my best friends said "Congrats!" when I told them I got laid off.
Thanks to everyone who has been on this ride with me. To my wife Courtney who has supported me through some major ups and down, to the amazing Credo customers, to the clients I've had the pleasure of working with. It's been a ride and a pleasure.
Here's to year 2.