I just returned from CaboPress, my mentor/coach Chris Lema's annual event in Cabo for business professionals, many of whom are in the WordPress space.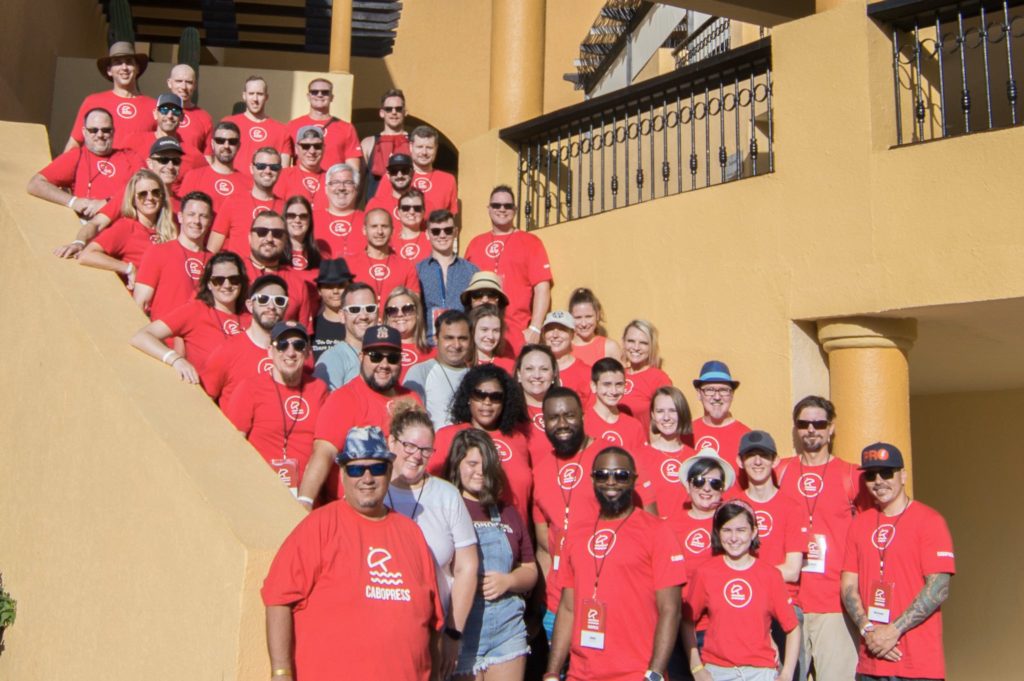 Image via Chris Lema
This was my third year at CaboPress, and maybe the most impactful of all three.
I've written my other CaboPress reviews for 2017 and 2018 here and here, so feel free to go back and read those to see the lessons from past years.
This year, as I reflect upon the week, one theme/topic stands out to me:
Belonging
No longer the new guy
In 2017 and 2018 I felt like the new guy, a fish out of water, maybe even like I didn't belong. I didn't know anyone the first year, I was meeting new people all the time both years and trying to find my place. Credo was/is built on top of WordPress, but we're not really in the WordPress ecosystem.
Year 1 for me was 2017 where I realized that Credo had become a service business, which was a change from my first attempt to turn Credo into a product business. I realized that what I had been doing to grow Credo did not make sense in that light and that was why everything felt so hard. In the two years since I've learned to lean into that "why does this feel so hard?" thought, as it usually means we're working on something that isn't quite right.
Year 2 in 2018 showed me the path to the business I've always thought Credo could become. And with that I realized that I could be happy running the business, which was not something I had experienced for a while. Upon returning I texted my now business partner that we needed to move the business in another direction. We kicked off that project in January of 2019, moved it into beta in June, and officially launched it in September.
In 2018 I felt a bit more comfortable and knew others who were coming back, but still felt like kind of the new guy especially since I am not very deep into the WordPress space. But I was learning to ask better questions, to go deeper with others around specific challenges, and continually learning how to be a good conversation partner around entrepreneurship.
Heading into CaboPress this year I wasn't quite sure what it had to hold for me.
I knew I needed a break to step back and look broader at the business and where we're meeting the goals we set out and where we've maybe missed the mark.
And while that happened and we have some big things to change and tackle over the coming months, I walked away with that new feeling
A sense of belonging.
Finally after 4 years of being on my own and three years at CaboPress, I felt like I belonged, like I wasn't a liability, and that I could contribute.
And seeing others there this year, I think others felt it too.
One specific story stands out to me.
One evening I sat at dinner with another attendee who was also on their third time at CaboPress. This person and I interacted a bit in past years, but I didn't really feel like I knew them. In fact, heading into CaboPress I wanted to get to know them, to get to know their story, to understand their background and why they kept being invited back year after year.
The person's identity and their background don't really matter, but during that dinner they opened up and told their story and started to let others into their story and background.
I came to realize that this person is one of the more accomplished entrepreneurs at the whole event, and how amazing it was to see them open up and start to step into that power and to also accept that they had issues within their current business.
This year was originally going to be a "alumni" year, where only alumni from past years would attend.
But along the way Chris opened it up to some new people, so the event settled in at around 50-55% alumni and the rest first time people.
The experience the alumni brought was valuable in terms of both showing others how things worked and sharing their knowledge accumulated over the years, and the first time attendees brought a breath of fresh air to the event.
Fresh questions, fresh answers, fresh perspectives.
What CaboPress 2019 taught me was that no matter where you are in your journey, you belong.
There is a community around us of amazing other humans, some of whom are ahead of us in some ways yet who are still realizing things about their own business. No one has it all figured out.
And, each person has something special to contribute. We all have our areas of expertise and those are valuable.
We can all teach others things and they can all teach us things.
Doing something right
Beyond that, I walked away with another interesting feeling specifically about Credo.
That we're doing something right.
In past years, I felt like my business was broken. Like I was doing it all wrong, that I was failing as an entrepreneur.
I wasn't convinced I could keep going.
But each year I have, and business has continued to go along through the normal peaks and valleys of trying to build something of value.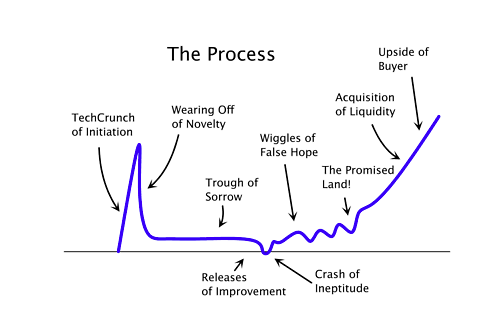 I walked away this year feeling hat we're actually onto something with what we've created this year and the base I built over the previous three years.
As the same time, I feel like there is an opportunity to really see it blossom in a way that is sane, that is meaningful, and that meets the needs of an industry I love, that being the digital marketing industry.
We have some big things to work on and other things to test (thanks to Justin Wise for the push to take action and test things quickly), but I walked away feeling like we can figure it out.
If you want to go fast go alone
This year my business partner attended with me, and I realized that having a partner in crime who pushes me while I also push them is something that I was missing for a long time. I like working for myself, but I'm increasingly realizing that I don't like working by myself. Having a partner in crime is liberating and freeing, and we're able to spread the load and stress of building a company. With the right partner, you can go so much further. The old adage of "If you want to go fast go alone, but if you want to go far go together" rings much truer to me now that ever before.
And when you take that and expand it to the community around you, a community that cares about you and wants the best for you, there is nothing you can't do.
Get the best people on your side, bring them together as much as you can, and watch the magic happen.
Giving back and going deep
This year in 2019 I was privileged to be one of the hosts. Now, CaboPress isn't a typical keynote-talk style conference with bad buffet food.
CaboPress's sessions are in the pool.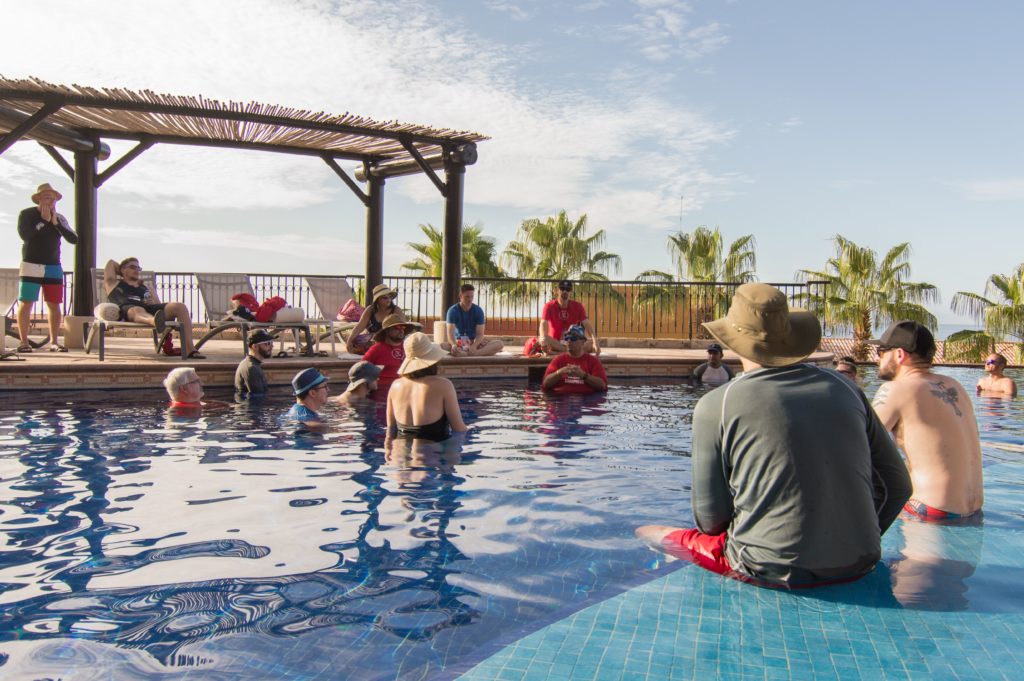 That's me in the black hat/with tattoos. Image by Jean Perpillant of JP Design Theory
I shared about our challenges over the last few years building a bootstrapped marketplace that over time has straddled software/subscriptions (SaaS), marketplace, networks, and a service business.
I've found that when you open up about your business and challenges you are having (and I was pretty clear that building a marketplace is probably the hardest business you can build), then wisdom comes from the most unexpected places. And I want to thank all the people who came to my session and asked great questions and challenged our thinking, as it makes everyone better and stronger!
---
This year further cemented in my mind that hands down, CaboPress is the best business conference in Cabo San Lucas. And being able to be a part of it for three years running, and this year being extremely humbled to be able to host a session (Chris invites 9-10 people each year to lead a session on a topic of expertise of theirs), is one of the best investments I've been privileged to be able to make.
Thank you Chris for all you do for others and have done and do for me and my own business. You've truly created something special.