Sometimes in life we know that something needs to change, but we keep putting it off until it becomes big enough of an issue to force our hand and cause a change. For years, I've been wanting to move my sites off of the disparate cheap shared hosting where they previously lived and onto WPengine for a long time.
In the last few months of 2015 I realized that my livelihood moving forward, as long as I work for myself, is all going to come through my own channels. I have become convinced over the years, after seeing slow and fast sites, of the importance of speed for websites. While it often won't help smaller sites from an organic perspective, on very big websites with millions of pages you can see a lot of improvement in both traffic and conversions by speeding up your sites.
All of my sites are on WordPress at this point because of the easy extendability of the open source platform. I began my career online developing on the Joomla platform and still remember looking at plugins that supported SEO friendly (SEF is what they called them) URLs. While Joomla worked fine for what I needed at the time, WordPress has moved ahead of them leaps and bounds so basically all my websites have been exclusively WordPress since 2011. I tried building out a few sites with other providers (SquareSpace, Shopify, etc) but they didn't really suit my needs as someone with a web developer background who wants the freedom to extend things as I wish.
These are the reasons I switched. Some of them affect SEO, some of them don't. All of them could help you build your business.
Speed
When I first started developing out my own websites back in 2010/2011, my cash situation did not allow me to invest in premium hosting. When I saw (what I thought was) a great deal from another host, I snapped it up and figured I'd be fine paying $4.99 a month for hosting. The one-click deployment of WordPress didn't hurt either and everything worked together well enough to launch this site and a few others (all now defunct, ironically enough). Over time, as I bought a few more domains and worked on some other never-launched projects (I'm a big fan of doing this, by the way. I'll write a post about it someday) and had issues with popular posts bringing down my site with the dreaded Error Establishing A Database Connection page, but I wasn't trying to make any money directly from the sites at the time so I just let it be.
Since I got laid off in September, now this site helps drive my business Credo and consulting when I want to pick it up. Because this site is now driving revenue for my business, the hosting needed to be upgraded. Credo was already on WPengine, so I simply upgraded the hosting account and moved this site over. Check out the difference in performance on my company's old site hiregun.co:




The results speak for themselves.
Streamlining Hosting
As I mentioned above, I had quite a few sites and they were spread over different hosts – BlueHost, Dreamhost, and GoDaddy. Alongside the terrible site speeds, ongoing maintenance was becoming extremely cumbersome as I made updates to sites, moved different domain emails onto Google Apps, and needed to try new strategies to drive business. I could have used a tool like 1Password to remember all of my passwords, but why do that when you can actually streamline things? I'm not a fan of a patch where the real fix takes just as long and the job is done right.
Customer Support
WPengine has pretty incredible customer support. Whenever I come up against an issue when migrating a site (such as I forgot to change my site's URL in the Admin area before flipping the site live on WPE), all I've had to do is either call support or hop on the free support chat within the WPE dashboard. Within a few minutes, I'll have someone on the line who can help me out. When I recently moved Credo to HTTPS, I bought the SSL certificate through them but found their documentation about how to properly configure it to be lacking. I hopped on support and quickly received this screenshot: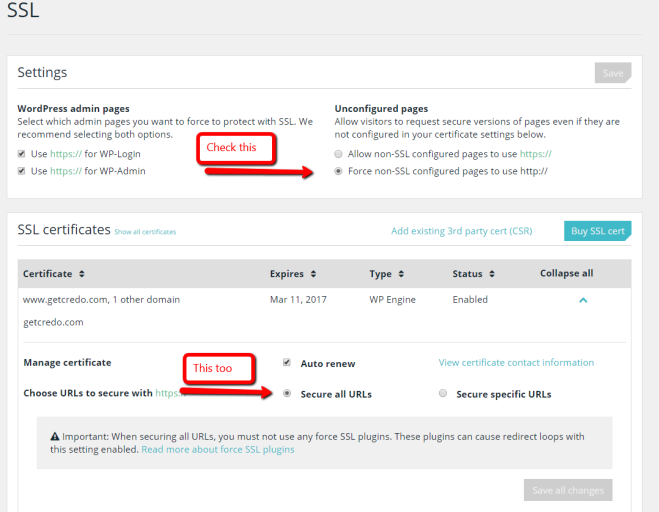 Staging Area
I don't consider myself a developer, though I can use a FTP client and have no problem hacking around in HTML/CSS/PHP/JS (and also no problem calling in smarter people when I can't solve it!). But when I'm running a business and the public facing site needs to work all the time, I can't afford to make edits on the live site. Believe me, this was way more anxiety-inducing than it needed to be so the staging server was a big selling point for me. I'm easily able to push the Live site to Staging and vice versa when I need to make changes or add new page types like this eCommerce page, for example.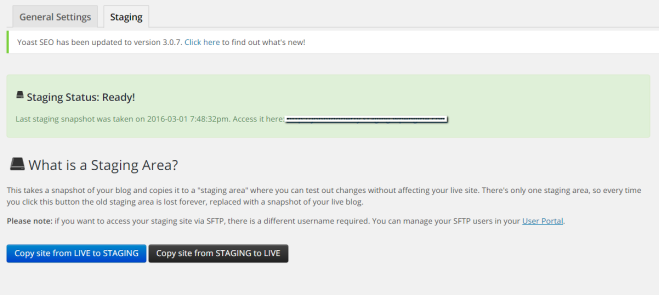 Easy SSL Support
While SSL is purportedly a ranking factor, I've yet to really see it have an impact on sites immediately. While that was a small impetus because I like to have every advantage I can when ranking websites, it wasn't strong enough of a driver to make me switch Credo over to SSL. However, trust is strong enough of a factor because trust means you earn more business, and more business is always good. WPengine sells SSL certificates through RapidSSL, so while they're skimming a profit off the top they also take care of setting (almost) everything up for you so that it (almost) just works.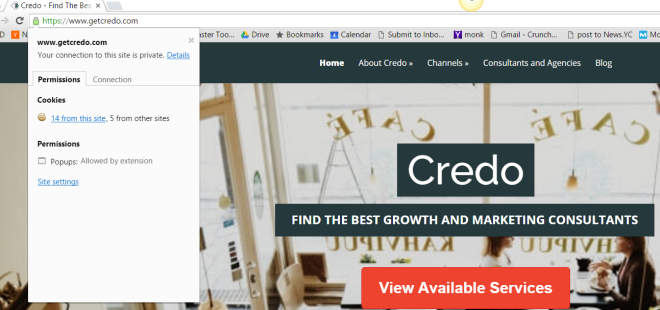 What are the negatives?
No tool is perfect, so in the interest of transparency I want to point out a few areas that WPengine is less amenable than my past hosting.
WPengine Cost As Compared To Competitors
I'll be honest – I really liked paying a small amount per month for hosting. I'm not a supergeek when it comes to website speed and I don't get great joy from optimizing little things to make them go faster unless they are going to make me money. WPengine is undoubtedly more expensive than my past hosts, on the order of about 8x more than having two separate hosts like I did before. The convenience is more than worth it and all of the reasons I mentioned in the top part of this post made switching to WPengine more than worth it.
In the interest of even more transparency (and because I think it's helpful), here's a list comparing WPengine to other hosts:
| | | | |
| --- | --- | --- | --- |
| Provider | Price Per Month (Lowest) | Cost Per Year | Type of Hosting |
| Wpengine | $29 | $348 | Shared |
| Bluehost | $7.49 | $90 | Shared |
| Dreamhost | $7.95 | $95 | Shared |
| Hostgator | $12.95 | $155 | Shared |
WPengine is definitely the most expensive in the set, but also as an entpreneur and business builder I love that they are not embroiled in the race to the bottom. They're a premium product charging premium prices.
A Few Overlooked Details
I've come across a few details that I wish WPengine paid a bit closer attention to. Because I try to be hyper-vigilant around anything that could adversely affect my site's search traffic, I caught them sooner rather than later but they've still been issues that I'd rather not have dealt with. They were:
When I purchased my SSL through them, they configured it and set all URLs live on HTTPS without my knowledge or permission. I expected that they would tell me it was ready and then let me decide when to push it live, but unfortunately they did not. It was only live this way for about 24h and not linked from anywhere, so I don't think any harm was done. Regardless, it could be an issue for other non-professional-SEO customers.
When I moved this site (my personal site) over to WPE, I did not know to update my site's URL setting within the staging environment to my domain before deploying the site live. Because of this, I was unable to access my WP-ADMIN for about two hours until I got in touch with support and they manually reset it. It would be nice to know ahead of time that this is required. When a person is moving more than one domain over you only make that mistake once, but what about those customers who only move one?
For a while my staging subdomain was indexed by Google. This was caused by a link that I inserted in a post on the staging server remaining as the staging server URL instead of changing to my main domain when I pushed the site live. It wouldn't be that large of a challenge to do two things:

Set the staging server canonical to the main domain
Update all mentions of the staging server domain to the main domain when the site is pushed live, regardless of how the link was created.
This isn't good:

Staging Has Its Limits
The final limitation I have come across recently is the staging server, which is a bit ironic since it's one of the big reasons I chose to move to WPengine. There are a few limitations I have found to the staging environment on WPengine as it currently stands.
Not all changes always get carried over. A few times I've had my Custom.css or theme CSS not carry over to the live site when it's been edited on the staging site. This has resulted in some short term CSS layout issues on the site until I could copy/paste the CSS directly to the live site, which I hate doing.
On a marketplace site like Credo where others are able to log in and edit info (eg agencies edit their profiles and provide rich data on themselves), I often run the risk of overwriting something when I didn't know that they had edited their profile or that a review was left. Instead of just providing some general ways to push things live, like all types of tables or just specific ones, it would be great to have the ability to just push live only updated tables and leave everything else the same.
---
All in all, I am very glad I chose to upgrade my hosting and go with WPengine over my previous hosts. The goods definitely outweight the cons, and with the few things mentioned here fixed I'd be an even happier customer.