As a digital marketer and digital entrepreneur, I am online a lot. I spend a lot of time on services like Google, Facebook, Amazon, Twitter, and more.
I've been, for a long time, a fan of these platforms. After all, I have built my career by using them. For that, I am extremely grateful as I am extremely grateful for the life I get to live.
But I also can't help but feel like these services are getting worse and worse over time.
A few examples spring to mind recently.
Why is Google Ads suspending brand new accounts and not telling why, and taking forever to fix it?
I recently started a new productized service business called EditorNinja. It's basically meant to be the Design Pickle of copy editing if you know what Design Pickle is.
At its core, EditorNinja is a subscription service for companies to get their copy edited and proofread before it goes to clients, into sales meetings, or onto their own website. Typos kill conversions and content managers spend way too much time editing content when they should be more focused on creating content and building content systems that drive revenue.
Because EditorNinja is a subscription service, and because we're already getting customers via Google Search, I thought it made sense to try out Google Ads.
So I set up a Google Ads account. I decided to use an @gmail.com account instead of my @editorninja.com account simply to make the account more shareable with others in the future when someone else runs our ads (hopefully). In retrospect, I maybe should've just used a more general official EditorNinja email.
As soon as I set it up, I received a message in the app and this email: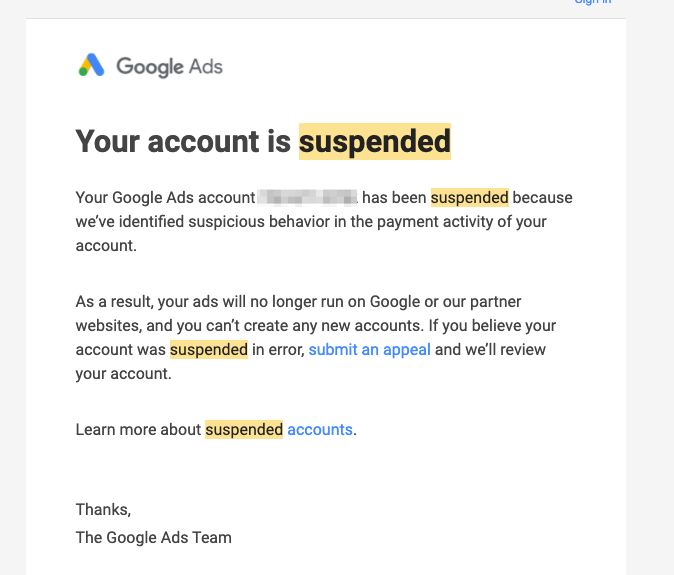 Let me be clear:
This is a brand new Ads account. As far as I know, there has never been a Google Ads account associated with that email.
I have not spent a dime on Google Ads. So how can there be suspicious payments?
It is not connected (thankfully) with my main Credo Google Ads account, where we've run ads for years.
I posted about it on Twitter (of course) very nicely asking for some help. The answer I got back from Google?
Hi John, We take system safety very seriously & have focused significantly in this area to both catch more fraud & reduce flagging of good customers. I know it can be frustrating, but we review all appeals & monitor incorrect decisions to provide feedback to our systems.
Look, I know Ginny is caught up in the Google machine. But this is a BS answer.
A bunch of others chimed in about ads that had been running for a long time being disapproved over a new rule that Google implemented, that their ads had nothing to do with. Lots of frustration, including that last one where their account was suspended (I'm assuming for no reason) and they never got a refund.
Then Ginny comes out with this in response to Barry's post:

Hi Barry, Safety is paramount and our policies span range of concerns, including the content of ad creatives and advertiser behavior. The issues addressed in this story aren't related. We also haven't seen any "mass" disapprovals that would indicate a bug.
Same PR BS about "safety" and "range of concerns". And then she puts in the spin of "mass disapprovals", which I take to mean that they didn't mass disapprove accounts or ads. That's pure PR spin right there.
So what's going on? Sure seems to me like there's a bug in their systems that is deactivating ads, they don't know where the bug is, and they can't say anything about it because advertising feeds the Google beast.
Smells like a rat to me.
Why is Twitter being opaque about reasons why someone can't be verified?
Then today I tried to get my Twitter account verified. I meant to do it years ago, but was so busy building my company that I put it off for a while and then Twitter suspended the program because they kept verifying white nationalists. Oops, right Twitter?
Here's my account: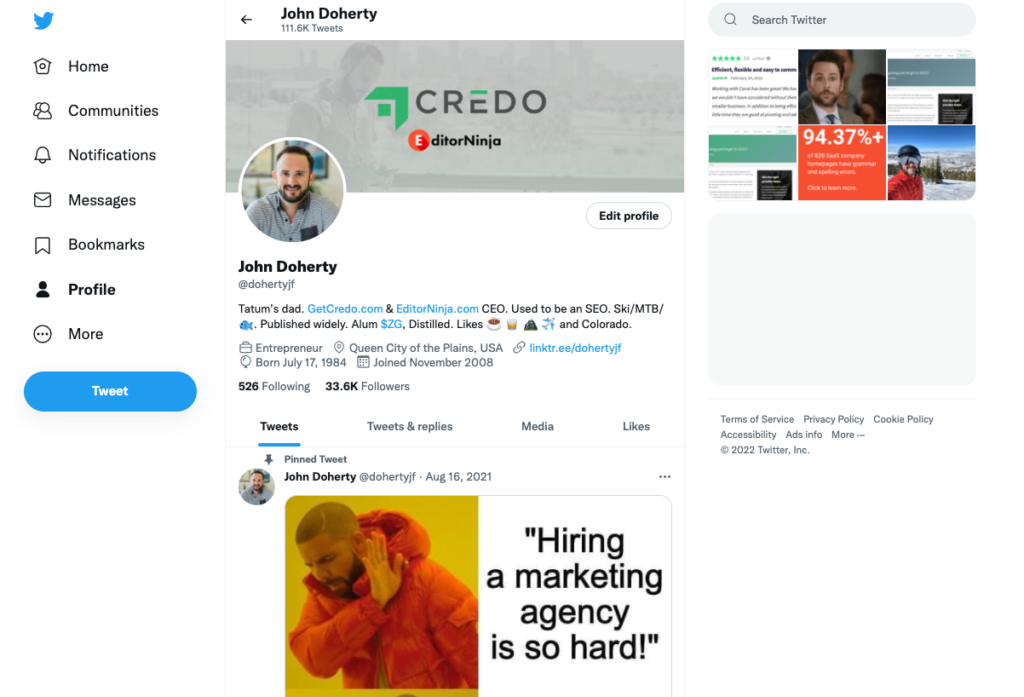 Stats:
Existed since 2008
Over 111k tweets
33.6k+ followers
I am founder of 2 brands and companies
The reason Twitter told me that they couldn't verify me?
You aren't eligible for verification in this category.

You have not met the minimum follower or mention threshold for your region that is required to be verified as a content creator or influential individual.
I also can't get verified as the founder of a brand, because Credo hasn't been written up in mainstream media ("verified media outlets") in the last 6 months.
You know, I am totally fine with being told that I don't meet the criteria. It lights a fire under me to do better. But a message like the above just isn't true, unless their numbers are way higher. In that case, be transparent about it. We can't meet certain criteria if we don't know what the criteria are.
I also get that they're trying to fight spam. So is Google. They're trying to have this be a tight program that won't cause them headaches anymore.
But it's just another example of one of these big platforms that we've given so much power to that they're just able to do wrong by their users.
It makes me sad, and it makes me angry.
This is why I've written this post.
Be it what it may, there are rats in the building.